Welcome to Rivergum Puppies!
We specialise in breeding Spoodle, and Groodle puppies. Here at Rivergum you have the unique opportunity to deal with us, the breeders, directly.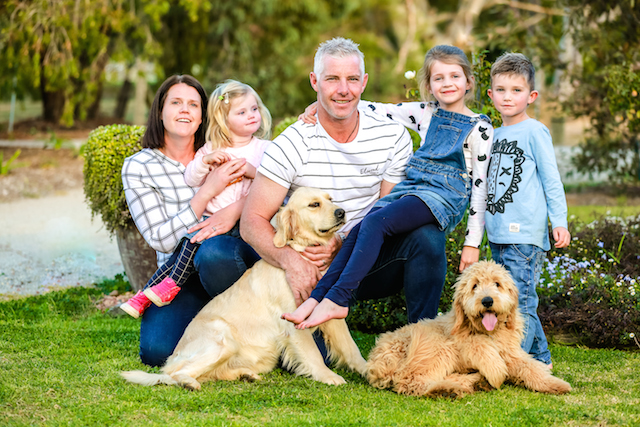 We have a strong commitment to providing you with a puppy to suit your needs and lifestyle. We take special care in selecting only the best sires and dams to produce the best temperament puppies for you and your family.
Rivergum have been established breeders for 35 years. Rivergum is a family business which has been operating online for 15 years. Our family – Leish, Ross, Eloise, Alby and Maisie – have taken over from Marg and Trish, the original breeders. The same breeding programme is continuing and the same level of service continues. Marg and Trish have been working with us for the past 18months and have shared all their knowledge and experience with us, and will continue to do so.
Rivergum Puppies will help you find then right puppy to suit your family before organising everything for the delivery and pick up of your new puppy. Puppies are available for sale all over Australia and to some overseas countries.
Here at Rivergum Puppies all of our pups are vaccinated at 6 weeks, vet checked and wormed. We also microchip all our puppies before sale and register them with the relevant microchipping agency. Our Puppies come with detailed feeding and health instructions and we offer a full health guarantee for any genetic defects that may occur. We do not believe in desexing puppies at 8 weeks of age on recommendation from our vet. All our puppies can be freighted via air to all capital cities at the time of delivery.
We are able to provide you with very detailed information about each of our puppies as we spend everyday with them from the day they are born until they are ready for their new home. You can reserve a puppy from newborn until they are 6 weeks of age with a refundable deposit until the 6 weeks selection time. Once they are 6 weeks of age we work together with you to help you decide on the right nature, breed and puppy for you and your family. We arrange everything for the delivery and collection of your new puppy once the puppy is 8 weeks of age and they are socially ready to make the adventure to their new home.
Puppies are reared in a relaxed homely environment and we offer a stable, socialized farm environment. The puppy is coming to you as a part of your family, an addition to your family but also as a family pet that blends in with your family and lifestyle.
We specialize in breeding Spoodles and Groodles and we have a strong commitment to these breeds and are the original Groodle breeders in Australia and we have been breeding Spoodles for many years. We have a passion for breeding with a commitment to their health, care and welfare. All our puppies are born in air conditioned nurseries which have regulated heating and cooling for the extreme temperatures of our climate here. All our adult dogs are housed at night after a day of regular exercise as per DPI and shire regulations for their safety, comfort and protection from the elements. All our dogs have a friend to sleep with at night for companionship.
Rivergum Puppies offers you not only beautiful natured puppies but also the unique one on one experience dealing directly with us the breeder. We have the knowledge and experience to match the nature and temperament of our puppies to your family as we know them intimately from day 1. Our aim is to find the right puppy for you as it is a lifelong commitment owning one of our gorgeous puppies and we love helping people find their new best friend to love and cuddle.
Discover our latest litters